Still only £160 per person (all hire included)
This is a complete introduction to sea kayaking on the Moray Firth in the Highlands of Scotland. The weekend's instruction can be coupled with one of the British Canoeing Personal Performance Awards such as Paddle Explore for those who have already been introduced to paddling and have decided to focus on sea kayaking.
On day one we will spend some time getting to know your aspirations and experience (if any). We will start out on sheltered water and work on developing skills and a sound understanding of safety. We will explore the health benefits of paddling and discuss how we can improve our wellbeing through sea kayaking. We will certainly enjoy a short trip in one of Scotland's most stunning places.
On day two we will aim to learn about launching and landing in light surf and other places to get on the sea. We will practice skills on the sea and explore a coastal area where the wonders of sea kayaking will become apparent.
Before the weekend is over you will have a clear idea of how to progress your paddling and will hopefully be inspired to continue with your adventures on the sea.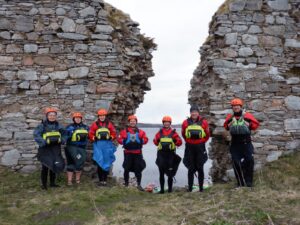 What you need to take
You can take personal kayaking equipment but a kayak, paddle, buoyancy aid and spraydeck can be provided. Consider this kit list before deciding what to bring.
Requirements
This is for beginning paddlers or those who have paddled a few times but have had no formal coaching. Requires a minimum of two booked to run the course.
Location
Generally coaching will take place on the Moray Firth or one of the many lochs in the area. View these typical locations on the map.
Comments from Attendees and Booking
'Great weekend Ali and Fiona...thank you heaps..we all loved it!'
'Thank you Ali and Fiona for your patient, knowledgable, confidence-building tuition for absolute beginners. We had a great time.'
'Great introduction to sea kayaking. Highly recommended.' 
Searching Availability...